Taser - conductive targets
The 3D Phantom mannequin as target in TASER procedure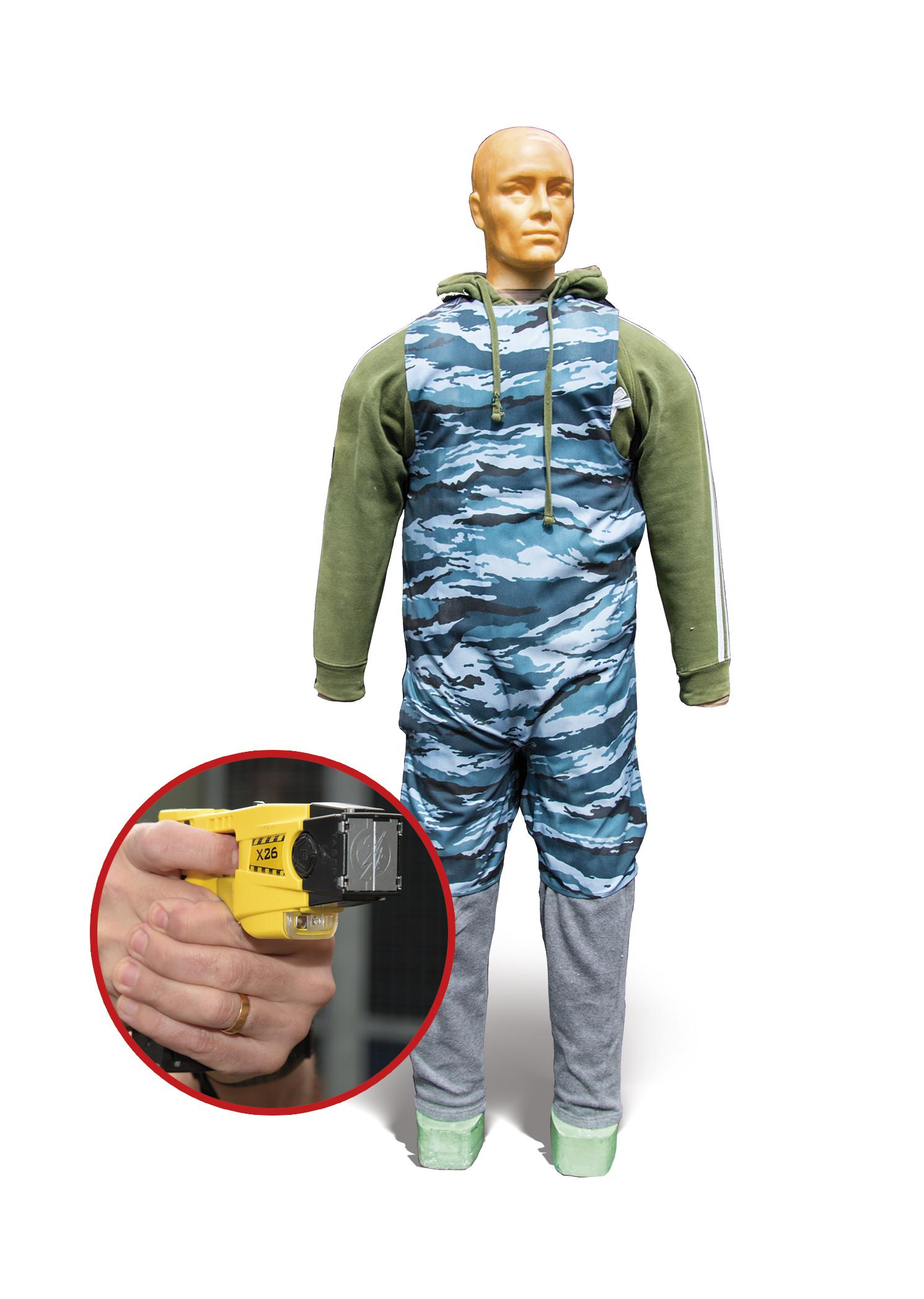 3D Phantom Dummy - 3DP
The 3D Phantom Dummy with a Phantom Conductive Vest that conducts electrical impulses is a full-size 3D target adapted to the conduction of electrical impulses emitted by stun guns used as coercive measure.
Training with the use of 3D Phantom dummy and the Phantom conductive vest provides a visual and sound signal once the target is hit, whilst the dummy's body structure ensures that the fired stun gun probes are well embedded.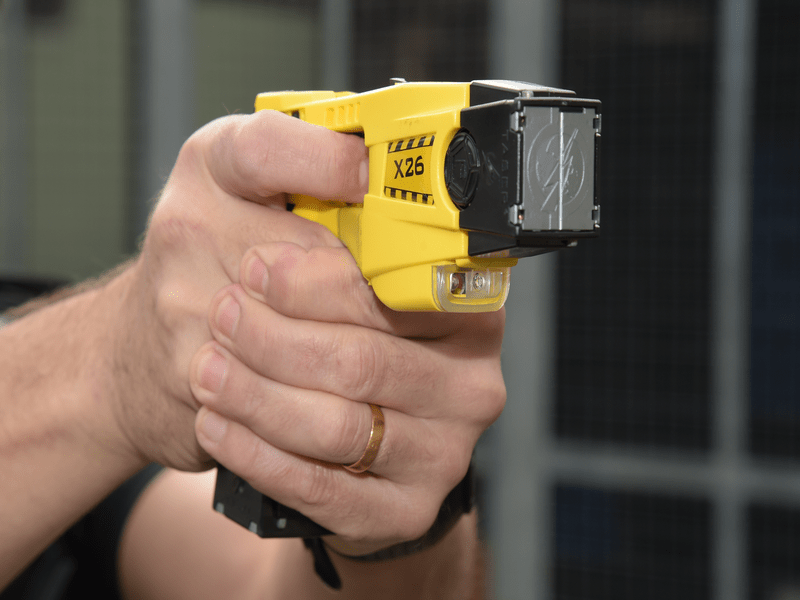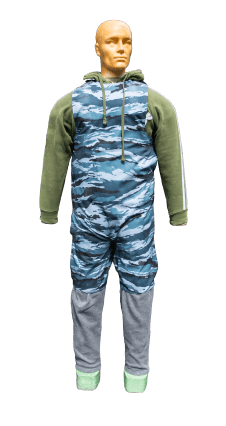 3DP
The 3D Phantom dummy allows for carrying out the whole "Taser" procedure, including turning over the mannequin, handcuffing, securing and a pat-down search.
To make the exercises more realistic, each dummy is equipped with a training rubber knife. The 3D Phantom dummy is a modular training element consisting of a rotating head, torso with movable arms and legs - all components are interchangeable and are sold separately. The Phantom conductive vest has two usable surfaces - both the front and the back of the vest transmit electric impulses generated by the stun guns, which allows for exercising in the range of 360 degrees against the dummy imitating an aggressive person.
Phantom conductive vests also conduct electrical impulses when the stun gun is used by touching the body.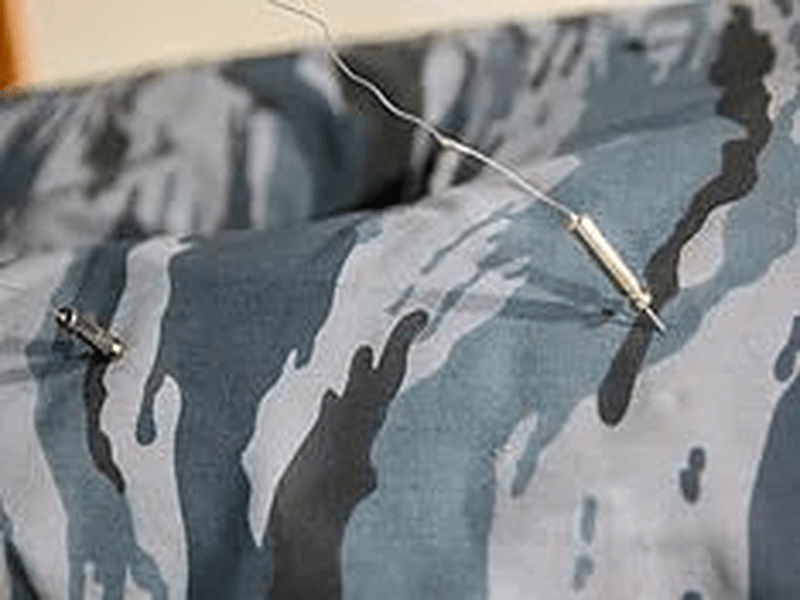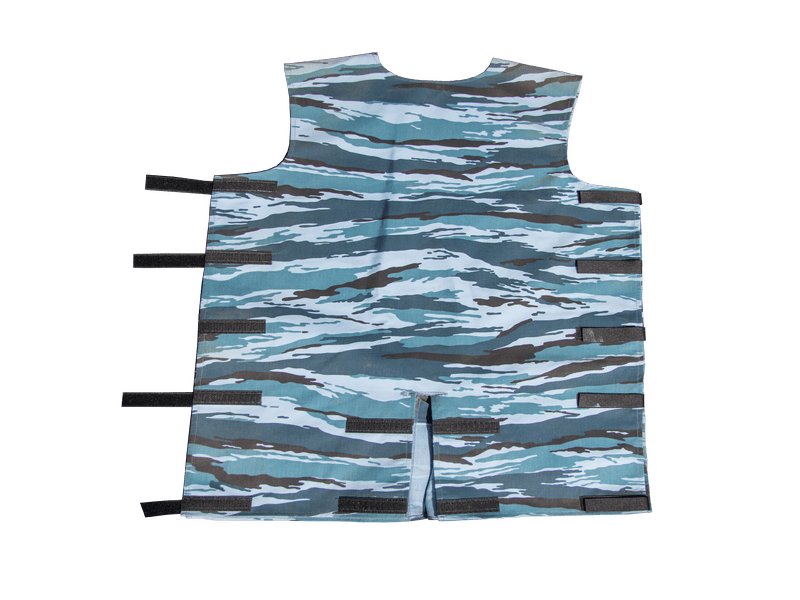 Phantom conductive vest – PCV 1
PHANTOM CONDUCTIVE TARGETS
The training can be complemented by Phantom conductive targets showing a full-size silhouette of an aggressor armed with a knife and machete, as well as a silhouette of a dog available in the form of shooting targets.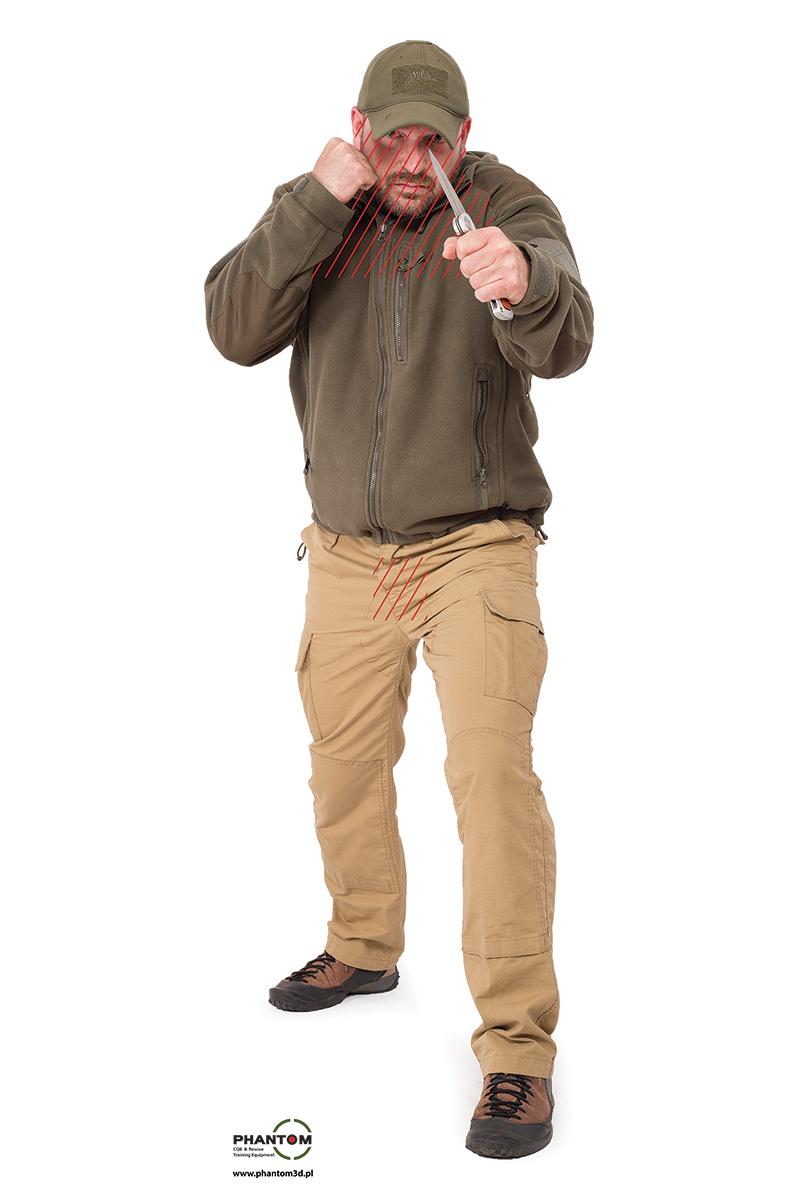 PCM 1 target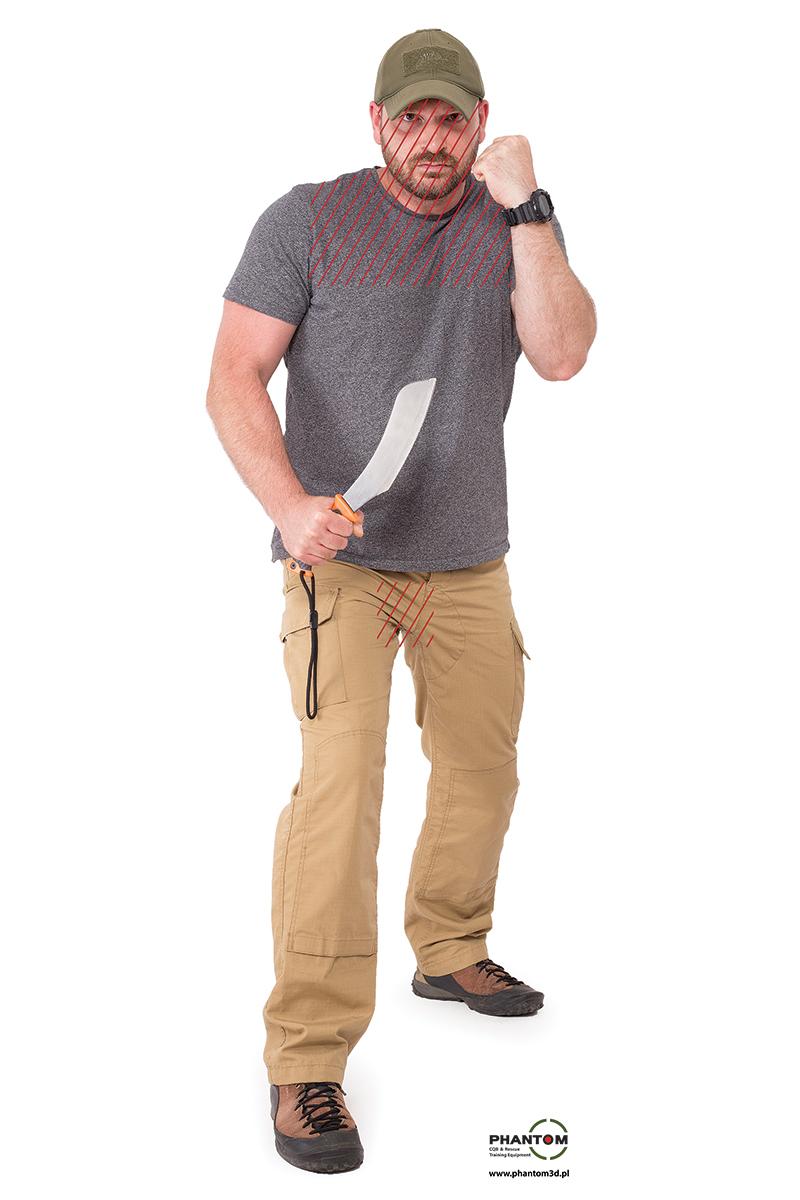 PCM 2 target
PCD1 target
Dimensions :
PCM 1 and PCM 2 target – 180 cm high and 60 cm wide
PCD 1 target – 60 cm high and 90 cm wide
Phantom targets conduct the pulses emitted by the stun gun ONLY in the outline of their silhouettes, therefore, only an accurate shot placed in the target guarantees impulse transmission and proper sound and visual signal.
This unique solution significantly helps to eliminate aiming errors and forces concentration when operating under stress.
Phantom targets also conduct electrical impulses when the stun gun is used by touching the body. Phantom conductive targets have marked zones that, according to the latest research and recommendations of the stun gun manufacturer, should be excluded from shooting at. Phantom conductive targets can be attached to slabs or backing surfaces with a hand-held tacker to ensure embedding of the stun gun probes.
Backing slabs – product code : BS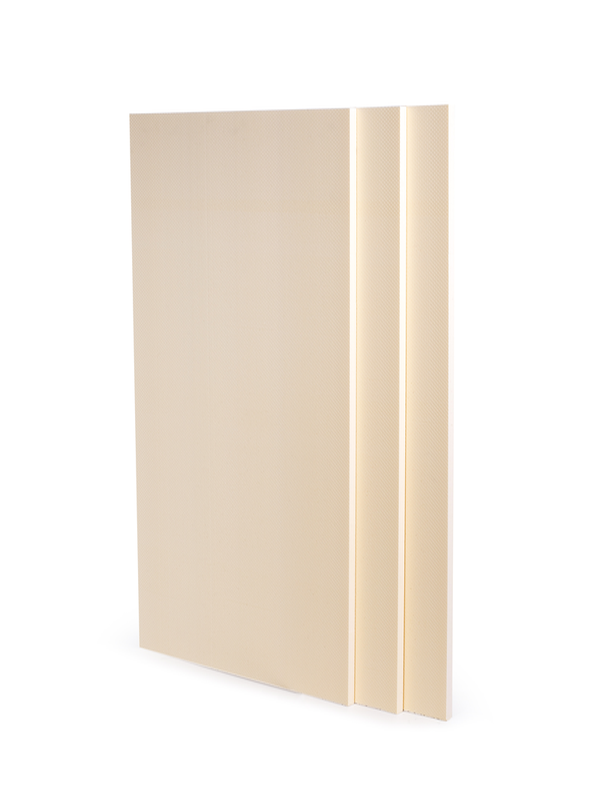 If you do not have a suitable surface for assembly your PCTs, you can use dedicated backing slabs.

Made of extruded polystyrene XPS type,2 cm thick, 90 cm high and 60 cm wide, ensure that the stun gun probes are hammered in strongly. Each slab is provided with a double-sided adhesive tape, which, after removing the protective layer, allows its fixing to a flat and smooth surface. For mounting PCM 1 or PCM 2 target, you will need 2 backing slabs. PCD1 target requires one backing plate.
STAND FOR PHANTOM CONDUCTIVE TARGETS – product code : SPCT 1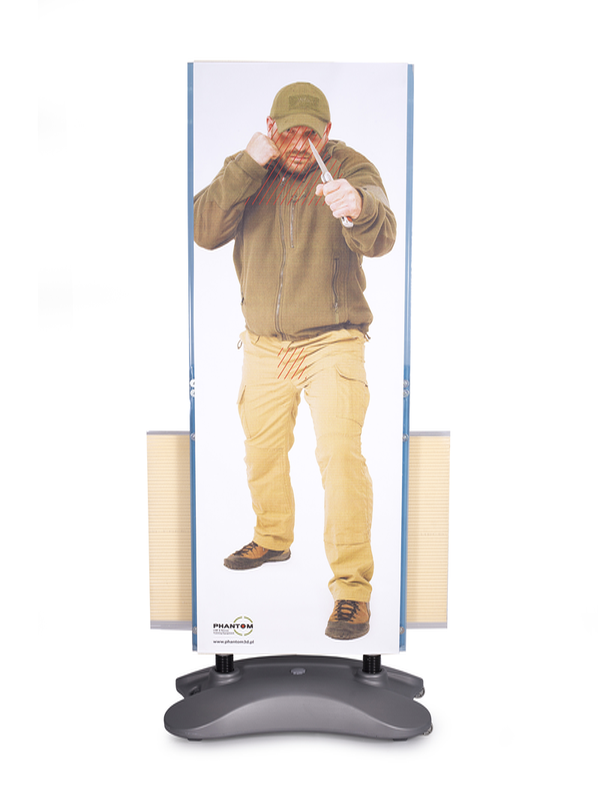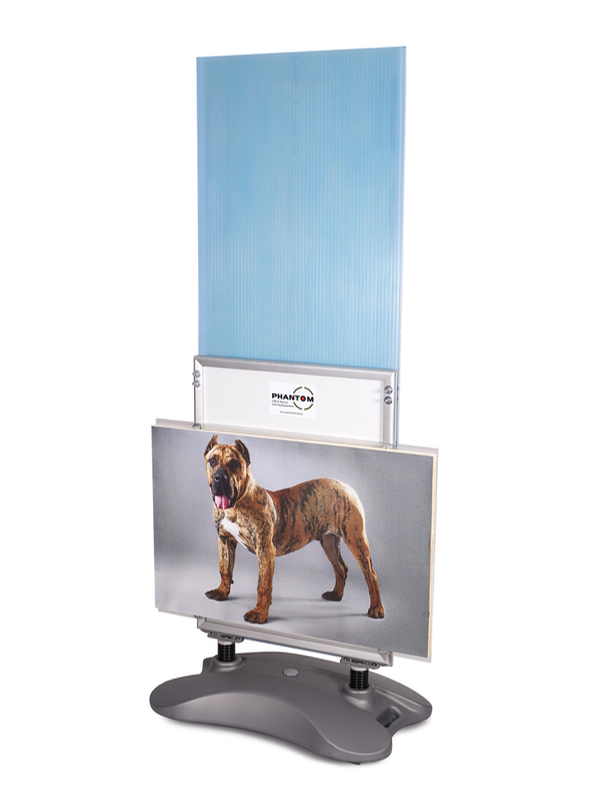 Double-sided stand with affixed backing plates. Stand suitable for attaching Phantom conductive targets PCM 1 or PCM 2 and PCD1. The Phantom stand has a modular, foldout structure, with the possibility of loading down the base by pouring water inside it - the base holds approx. 25 L of water.
weight of the stand without additional weight : approx. 12 kg
The vertical mounting plate is seated on two strong springs, which allows the target to be tilted after a hit or when removing the probes. The base of the stand is equipped with a pair of transport wheels and a handle to facilitate its movement during exercise.
The stand can act as a movable barrier during shooting exercises.