Accessories for 3D shooting mannequins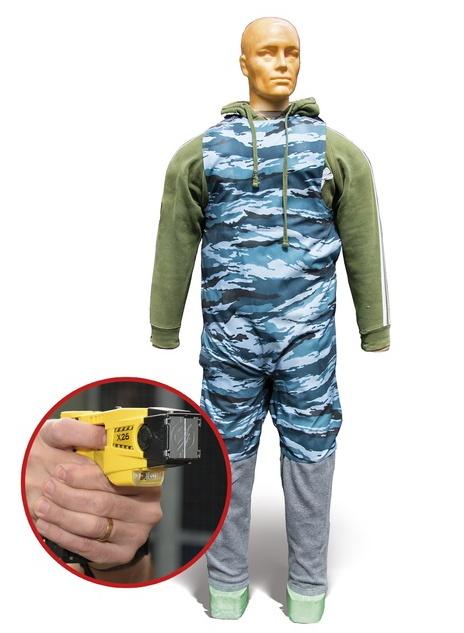 The operational abilities of our mannequins increase with the level of retrofitting them with additional training equipment.
For shooting mannequins:
vest for conducting electrical impulses dedicated to work on "Taser" devices
ballistic vest with resistance plate and anti- ricochet panel (used to overturn the dummy after placing an accurate shot in the area designated by the front panel of the vest)
a set of dummy weapons - the training knife and the contour of the AK rifle are the basic equipment of every shooting dummy
movable base for dynamic work in close range.
ELECTROSHOCK WEAPON - Phantom electric vest
Phantom electric vest - is necessary for exercises with electroshock weapons equipped with warheads emitting electric impulses.
A dummy dressed in a vest becomes a 3D target conducting electrical impulses emitted by the electroshock weapon.
The vest protects against the accumulation of electrostatic charges, and the conductive layers are located on the entire surface - both in front and on the back of the dummy.
The 3D Phantom dummy with a vest that conducts electrical impulses allows you to carry out the full procedure of using the electroshock weapon (flexible arms allow for handcuffing).
A vest transmitting electrical impulses is intended only for use with 3D Phantom dummies in order to ensure proper training with respect to the operation of devices used for incapacitation by administering electric shock that are approved for use as coercive measures.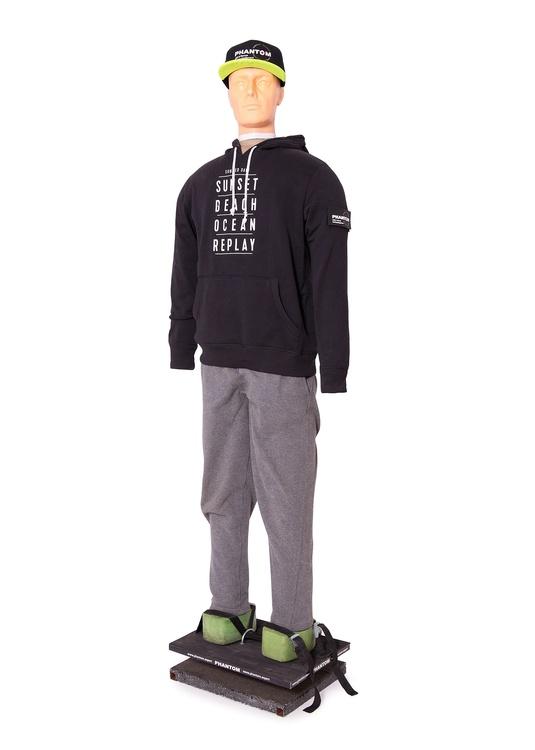 Phantom movable base
Base for attaching the 3D Phantom shooting dummy
allows the dummy to swing out in all directions after being hit or pushed,
helps teach how to keep a person at a distance in order to draw a weapon – indispensable in point shooting techniques
hitting the ballistic vest puts the dummy in motion,
keeps the dummy in place in strong winds,
prevents the dummy from falling over when hit, e.g. in narrow passages
construction ensuring reliable operation in all conditions and intuitive installation of the dummy
Ballistic vest
Attention : in close proximity and in confined spaces, it is recommended to work with pistol ammunition.
enables the dummy to be overturned or the torso knocked down after the projectile is located in the designated zone
the dummy's body and the vest's front panel provide anti-ricochet protection
a thrust plate with the parameters of steel type AR 500, 6 or 8 mm thick
hitting the vest zone shows target neutralization
each vest includes a set of spare assembly belts
Phantom shooting targets
Classic paper shooting targets.
The full-size male silhouette armed with a knife or a machete allows for shooting training including the minimization of the effects of using firearms Ė legs / arms.
The fact that there are no hit zones marked corresponds to what the attacker looks like in reality and it is meant to reflect the target's actual appearance.

The dog shooting target allows for training of the use of a firearm during animal attack simulation.